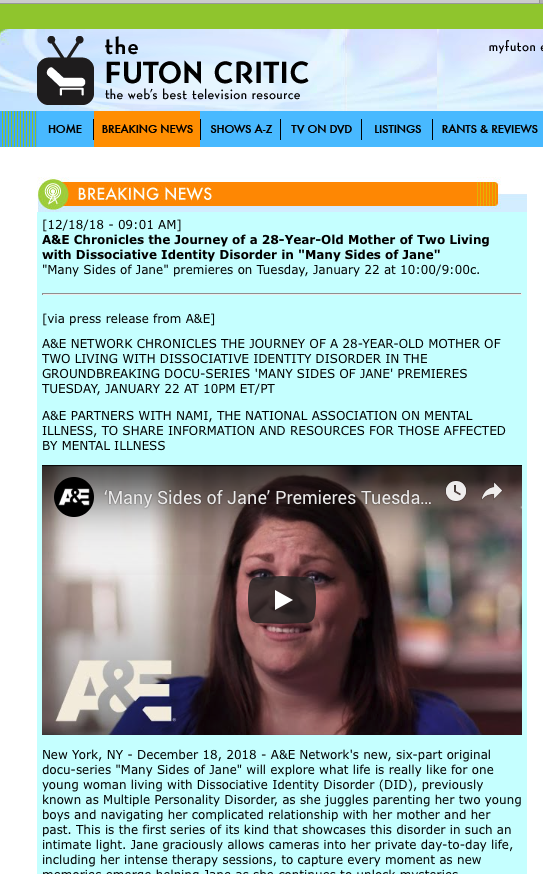 Upcoming Docu-Series features Plural Jane& — December 2018
In a joint venture between NAMI (the National Alliance on Mental Illness), A&E, and production company Renegade 83, a 6-episode docu-series titled The Many Sides of Jane will feature Jane&, a plural living in Boise, Idaho, in her day-to-day life, through therapy sessions, coping with her problematic parental relationship, and raising her children.
Jane& are recently diagnosed and the linked article outlines 9 residents of Jane& — possibly 10 if you count host Jane as well whom does not seem to be being counted amongst them in a typical mistaken singular-society assumption that a host is not also a resident or headmate.
Content Warning: the article itself is fair and contains mentions of Jane&'s headmates issues or overall profiles which are 1-2 sentences without graphic details. The video trailer for the show embedded in the article starts out purposefully haunting (including title fades and background music) followed by a montage of Jane& residents which are obviously different residents when laid out in quick succession, some images and the mood music/cinematography may be disturbing. Jane& obviously gets an MRI as they are shown being put into an MRI machine. They got tattoos they did not all consent to. Then the montage ends with someone in Jane& and their message of empowerment for the viewer which is frank and refreshing.
The docu-series begins to air on January 22, 2019 at 10 ET/PT on A&E.  It's covered by the Futon Critic from an A&E press release.
People.com also has a feature story on this series, released January 22nd before the show airs.