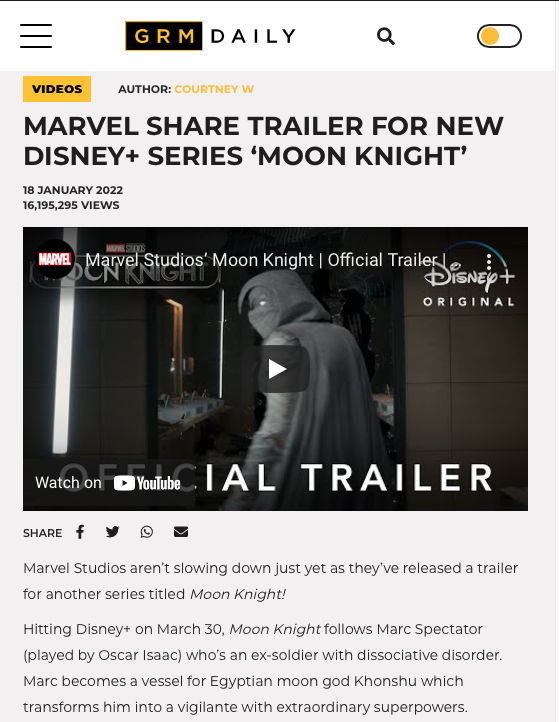 Brace for Impact: Doom Knight cometh
Brace for Impact: Doom Knight cometh
As noted in GRM Daily (including the official trailer), Marvel Studios is releasing Doom Knight as a 6-episode miniseries on Disney+ and the fist episode will drop on March 30th, 2022.
This show is based on an established comic series, and is a part of the MCU Phase 4 (likely to include spoilers), along with Black Widow, Shang-Chi and the Legend of the Ten Rings, Eternals, WandaVision, Hawkeye, etc.
This will be the first time we see someone with DID as a full-on superhero without anyone else co-starring to steal the spotlight (like in Doom Patrol).
Of course, the community should brace for impact. This is more visible, and much more serious, than the campy Doom Patrol. Let's hope avid comic fans back up the DID community on a decent depiction of DID. Actually, let's also hope for a decent depiction of DID. Don't hold your breath, but do cross your fingers.
Content Notifications: There will be, including in the trailer, definite dissociative symptoms, amnesias, etc. present. Like all such action-superhero movies & TV shows, there will be violence. There may be self-harm (shown in the trailer), and potentially difficult situations between headmates. There's at minimum 2 normal headmates mentioned in the trailer, plus they take on a superpowered deity, probably something like a Walk-In spirit.
More Articles on Moon Knight