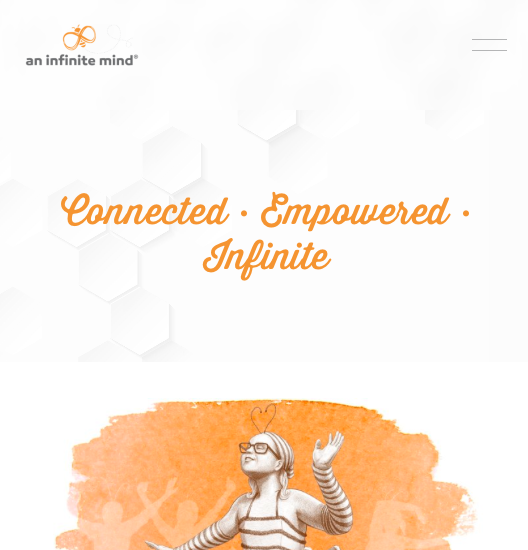 Cerberus Spotlight: Jaime Pollack, AIM & Healing Together
Cerberus Spotlight: Jaime Pollack, AIM & Healing Together
Folk in the community may have heard of the Healing Together conference in Orlando, Florida, USA, which is run for the thirteenth time this year by organization An Infinite Mind. Cerberus Plural asked for an interview with Jaime Pollack, founder of An Infinite Mind and Director of Community Engagement. We sat down with her on Zoom to discuss the past, present, and future of An Infinite Mind and of Jaime herself.
Jaime had a rough path to gaining the diagnosis of dissociative identity disorder (DID). Misdiagnosed with schizophrenia, schizoaffective disorder, bipolar disorder, and borderline personality disorder, Jaime took seventeen therapists and ten years to find the truth. She felt like a failure before finally discovering a dissociation therapist online who agreed to meet with her. This therapist asked the questions that finally clicked for Jaime, and while the diagnosis of DID wasn't entirely expected, at least everything began to come together and make sense. The voices she had been hearing for years, voices that had names and faces, were finally revealed as her headmates.
However, when she began to look for examples of success with this diagnosis and hope for her own future, all Jaime could find was the depressing outlook popularized by the media and the clinical approach of the ISSTD (International Society for the Study of Trauma and Dissociation). There was a clear need for a person-focused organization for education, outreach, and community – and that's when An Infinite Mind was born. Jaime chose to focus on this area of need because it was, at the time, extremely underrepresented. She named the organization from a saying on a poster in her therapist's office: "The brain is merely an organ, but the mind is infinite." Her overall goal is to bring normalcy to the DID diagnosis by busting myths surrounding it, showcasing real and successful people with lived experience, and providing support and community. Through all of this, she hopes to improve media representation and empower plurals – a goal she appears to be accomplishing!
As a 100% volunteer run organization, An Infinite Mind exists to highlight both strengths and struggles of plurals, especially those with trauma-related dissociation. It was founded in 2010 and is now a 501(c)3 nonprofit organization. Volunteers from An Infinite Mind speak at professional conferences, with a new shift away from trauma conferences and toward general mental health conferences, as well as at universities for both general audiences and mental health program audiences. An Infinite Mind offers a monthly Speaker Series and hosts Healing Together, a hybrid (in person and virtual) educational and community-driven conference. Their newest project is an expansion of their educational department to address the trauma training needs of student clinicians as well as the advanced training of clinicians already practicing.
Jaime has some advice for those considering getting involved with An Infinite Mind by attending the Healing Together conference: It is entirely possible to put your toe in virtually if that feels safer for you all. If you choose to go in person, there is no pressure to attend sessions; you may spend your time in the grounding area, creative corner, and pool and watch any sessions of interest later. There are no judgments for appearing in any way that makes you feel comfortable. She notes that it can be overwhelming to be freely and openly plural in the conference space when you're usually used to keeping it quiet and recommends you to prepare yourselves for potential discomfort beforehand.
In addition to An Infinite Mind, Jaime also works for a school district with special education and early resource intervention. She calls this her "dream job" and says that it informs her work with plurals as much as the reverse: "It's a real chicken and egg situation." She is attuned to early childhood development, to trauma, and to dysregulation all of which help her ensure safety and progress for children and plurals alike. All of this informs her passion and compassion, her two greatest strengths that allow her to overcome lesser knowledge in other areas, find others who match her goals, and bring her ideas to light.
Jaime tends to keep most details about her system private, however she did choose to share a little bit: she is always present at the front, with others sometimes joining her and still others present in the background. Some of her headmates have chosen integration, leaving Jaime with a "Final Five" core of unintegrated headmates who blend together as needed to share skills based on the situation with which they are faced.
When asked what comes next for her personally, Jaime replied that she wouldn't change a thing about her life until it comes time to retire from the school district in ten or more years, at which time she intends to devote her full working time to An Infinite Mind. She feels that she has put in so much therapeutic work to overcome her past that her current life is her dream life – and that's the thing she's most proud of, right alongside her accomplishments with An Infinite Mind and the Healing Together conference.