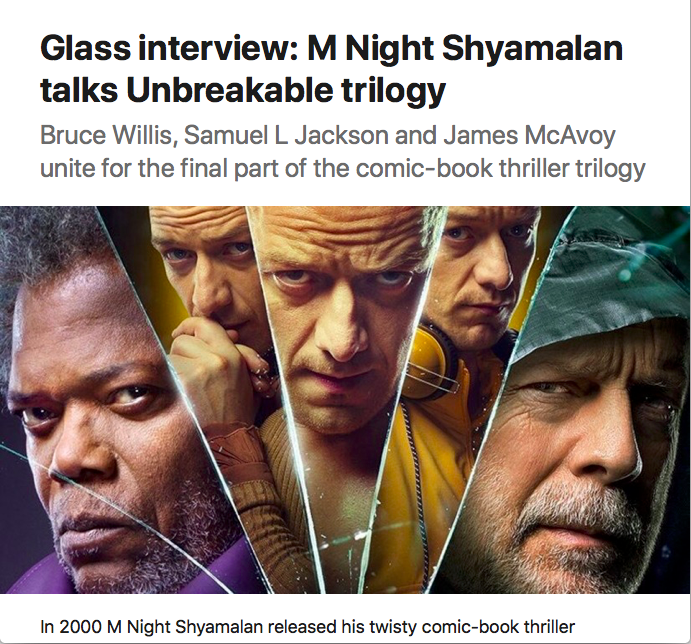 Den of Geek: Unbreakable Trilogy(?) interview with Shyamalan — December 2018
In this Den of Geek interview with Shyamalan regarding the Unbreakable trilogy, the director mentions the 20 of 24 of Split character Kevin&'s personalities in the third film, Glass, due out on January 18th, 2019.  Shyamalan talks about writing the film's credits (and crediting all 24), a chart they keep for Kevin&'s personalities, and that the film will cover more about each of the "superpowered"'s humanity and everyday-ness.
Also mentioned by the interviewer is whether there might be a fourth film in the franchise, and suggests bringing in the Sixth Sense character, Cole, who would now be an adult [implied: since Cole has the "superpower" of being an actual medium and speaking to the dead]. Shyamalan seems to give this idea real thought. Note if this comes about, this could potentially be considered a second superpower based on plurality in the franchise, as "hearing voices" sometimes falls under the plural umbrella.
The interviewer, Rosie Fletcher, was able to watch the first 20 minutes of the upcoming film Glass.  No spoilers.
Note: there's confirmation from Shyamalan of scenes in Glass that will (deliberately) take after One Who Flew Over the Cuckoo's Nest, thus institutionalization being a part of the movie in itself which may be triggering for some of our cohort.