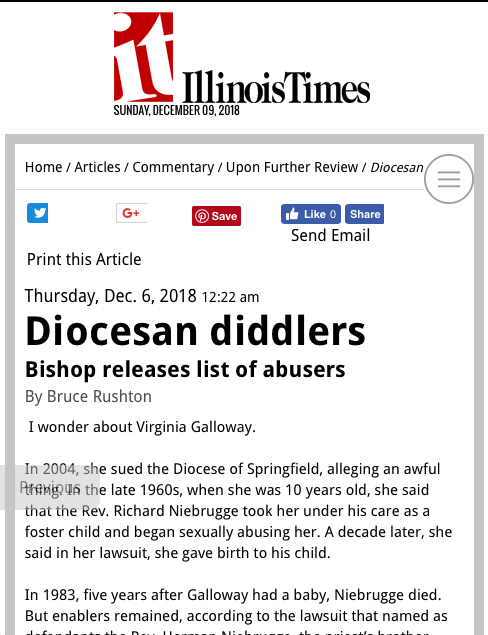 Plural's Case Not Listed – Illinois Times regarding Bishop's Abuser List — December 2018
According to the Illinois Times, in 2004 a plural named Virginia Galloway in the lawsuit filed against 3 defendants for crimes committed in the late 1960s through 1970s.  Unfortunately the lawsuit was dismissed due to statute of limitations.
Curiously, Bishop Paprocki published a list of known offenders and those accused by Galloway& were not on the list.
The author of the article, Bruce Rushton, was unable to find Galloway& for comment — and may be reached at brushton@illinoistimes.com.
Content Warning: The article discusses who makes the list, when, very little on why, and a bare-bones mention of what is expected to be done about it in the future.  Basically, they plan to do little to nothing about problems of the past but promise to make changes going forward.  Be warned of potential empty promises and diversionary tactics.