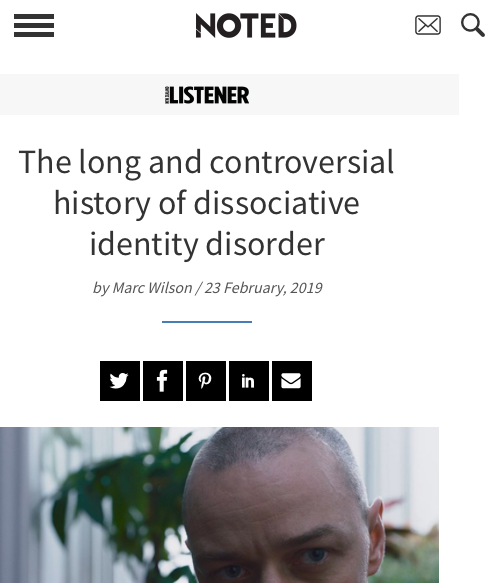 Ultra-Brief Long History of DID — February 2019
Perhaps it's with much irony that under 500 words summarizes the 500-year history of Dissociative Identity Disorder (DID) in this New Zealand Listener/Noted article titled "The long and controversial history of dissociative identity disorder" by Marc Wilson.  Frustratingly, an additional 133 words at the top of the article are about the Shyamalan movies, which could have been better spent on perhaps listing citations for the article as a whole.
That said, the article is fair-handed, if you skip the first 2 paragraphs about the movies. It gives a friendly high-level gloss over the history of the name change and how the diagnosis has been regarded over the years, nothing that would be missed in a Wikipedia article — which may be the article's only real source.
Content-Warnings: the main image of the article is a film promotional image of James McAvoy as Kevin W. Crumb, the article mentions that possession may be DID in a historical context, and the first 2 paragraphs are discussing Shyamalan's movies.